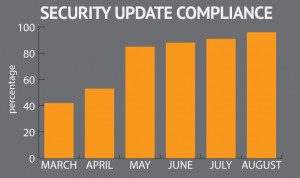 Case Study: Ensuring 4,000+ Endpoints Are Secure Using Managed Services by ITS Partners
ORGANIZATION
The customer is a $3 billion dollar chemical production company with over 30 locations across the globe. As they continue to grow, one of their key areas of concern has been ensuring their endpoints, currently over 4,000, are as secure as possible.
BUSINESS CHALLENGE
While there are many layers to endpoint security, one of the fundamental aspects is deploying security patches. With every security bulletin that is missing from an endpoint, there is a higher chance of a breach in the organization. However, as is the case with many organizations, the customer's previous solution was not providing the patch compliance levels needed by the business to allow them to sleep well at night. The customer was vulnerable and knew security breaches have been happening more and more to Fortune 500 companies. A breach could have exposed sensitive data or caused a loss of productivity, events which can translate directly to significant loss of revenue as well as loss of competitive advantage. So while the customer had a good solution for managing and deploying patches, they did not have the resources to properly understand how the solution functioned, nor did they know how to apply proper processes to the solution in order to achieve their patch compliance goal of 95 percent.
SOLUTIONS
One of the strategic goals the customer had was to enable their IT staff to consume IT platforms and processes as a service. This would allow them to focus on strategic IT projects while still having the confidence that underpinning IT activities were being accomplished. In order to advance this strategy while still attaining their desired outcomes for security patch management, the customer decided to partner with ITS.
ITS began by assessing how the current patch management solution was being utilized and where the gaps were in terms of process and configuration. One of the first things ITS discovered, after conducting an assessment scan, was that the customer was almost two years behind on security updates, which was much further behind than originally assumed. ITS was able to determine that the security update policies were not being properly built or maintained. Also, ITS found that none of the 3rd-party patching (Adobe, Apple, Google, Java) were being implemented.
Once the initial assessment was completed and outcomes were agreed upon, ITS conducted an onboarding process to determine the best course of action for correction. This involved documenting the life cycle of the patch management process, which included all of the elements needed to keep the solution optimized and relevant. After an initial cycle of alpha and beta testing, ITS was able to start the roll-out of two-and-a-half years of operating system and 3rd-party security updates. When ITS started, the customer was at less than 40 percent compliance for security updates. In a little over two months, the customer achieved 95 percent compliance for operating system and application security updates and continues to maintain that level of compliance.
WRAP UP
By partnering with ITS Managed Services, this customer has been able to further their strategic IT goals, maintain a high level of confidence in their security patch compliance, and focus on running their business.
Fully Managed Service - The customer's IT team is now able to use their time to address business problems and improve productivity. ITS Managed Services simplifies administration of the solution and alleviates the need to worry about how endpoints will be patched.
Security and Compliance - By partnering with ITS and focusing on the outcomes instead of how the outcomes are achieved day to day, the customer knows that a critical part of their security strategy is being addressed and has the data to prove it.
ITS & SYMANTEC TECHNOLOGIES USED:
MANAGED SERVICES PROVIDED BY ITS PARTNERS
SYMANTEC PATCH MANAGEMENT POWERED BY ALTIRIS™ TECHNOLOGY